Do it yourself
In this category you will find all of our do-it-yourself products. This includes different DMX interface components as well as other components and PCBs.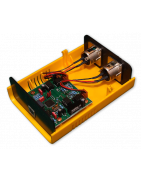 Subcategories
In this category you will find components for our Nodle U1 USB DMX interface. This is a powerful USB DMX interface with galvanic isolation and simultaneous DMX in and DMX out. More information about the interface and the project archive with the assembly instructions can be found on the project page.

In this category you can find the components for the Digital Enlightenment USB-DMX-Interface (short DE Interface).

This category includes various components for the "Hoelscher Hi" project, such as the transciever, among others.